The structure of the impromptu speech of A Cabin Crew Interview of Emirates Airlines
The structure of the impromptu speech of A Cabin Crew Interview of Emirates Airlines helps a candidate can present their speaking test following a clear structure. If the candidate doesn't have a clear structure, the recruiters can be put away. If they get the wrong way, they will feel annoyed and don't want to listen to you more. The candidates who used to join an interview remember the way how the candidates began the speech about Emirates Airline and Cabin Crew position professionally. And surely that, the beech had prepared before. But if you asked the candidates, they would answer with the structure. Therefore, all speeches have the same structure: the intro, body, and conclusion. You can improvise by yourself in these 3 parts. Although the basic structure is fixed, your answer shouldn't be prepared before that. Please Be creative and followed the basic structure.
The Intro part of the speech
The goal of this part helps you get the attention of the recruiters and express a little bit about what you are going to speak. There are many ways to begin a smart improvisation speech. But these three methods are proven to be the most effective ones.
The 11 gold seconds principle, followed the statistics, listeners have only an average of 11 seconds to pay attention to what they begin to speak. Or on the other way, these 11 seconds are your gold time to score your argument with the recruiters. That's why the introduction of your speech is really important.
Begin with a statement
You can start your speech with a statement about your position or with an announcement that can make everyone interested. For instance, "When I was 19 years old, I had my first flight. When seeing the image of Emirates Cabin Crews, I decided that I would be a Cabin Crew for this famous airline when I got 21 years old. And the significant day is today" The unusual statement will make the recruiters have to pay attention to your speaking and they can imagine a bit about the direction of your speech.
Begin by recalling something
The effective way to begin your speaking test is to recall the experience of the listeners. Remind an event that just happened in the group of candidates or concern about anyone who is maybe a candidate or a recruiter. Give an example: "I'm sure that when coming into this large room, you would remember your emotion of your first interview as a candidate like me. And I would like to present one of many emotions that helped you get successful, that is confidence. Yes, today, I'm really confident". Recalling makes your speech becoming unique and special. The recruiters feel your speech is just for them. When you remind something, you will receive a positive comment from them. This method is so powerful that the listeners always react positively.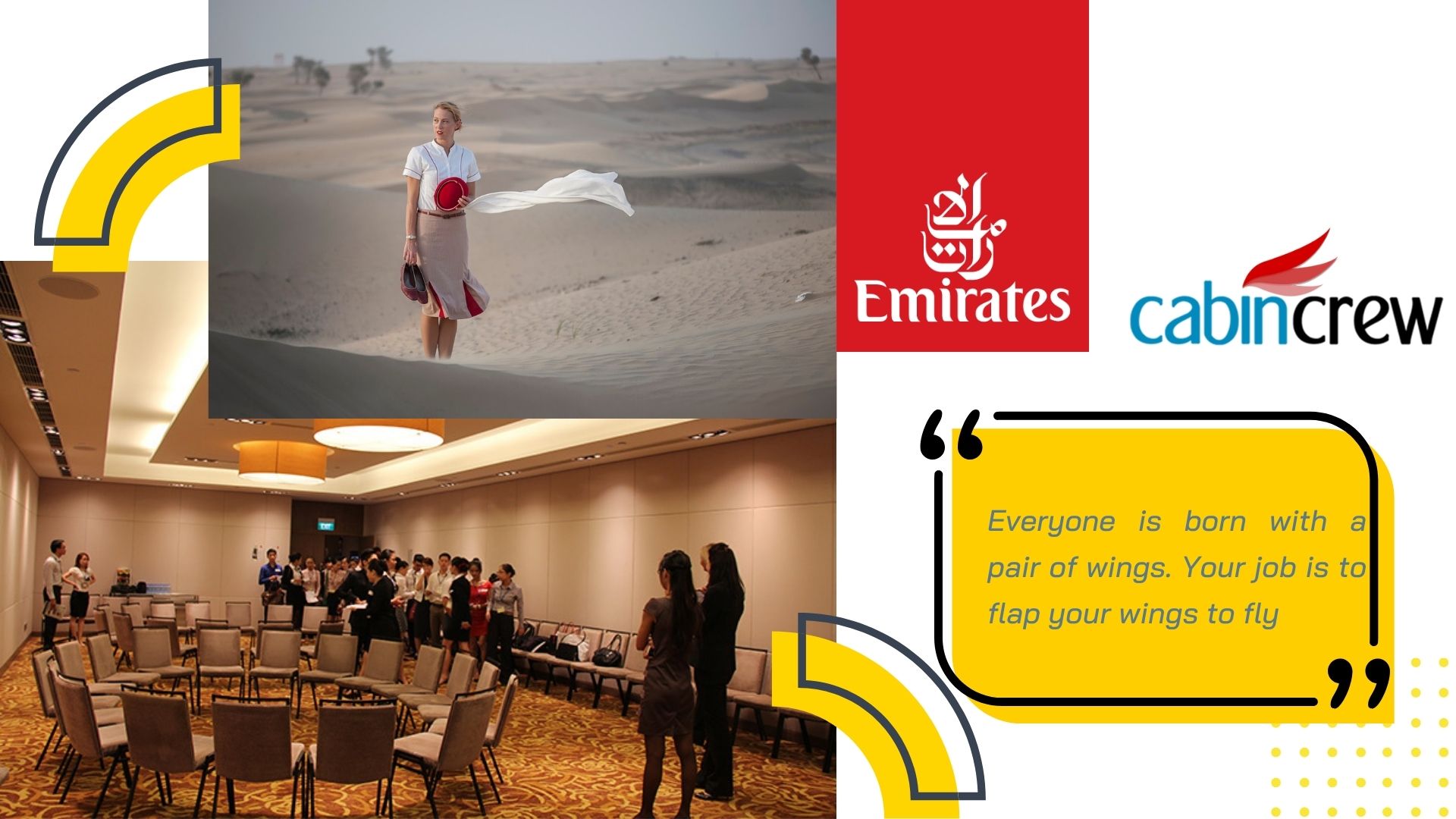 Begin with a story
People who really love listening to a story, although it is just on a film, or a reality show, or some speeches. When listening to a story, you can imagine a lot of the character's life in the story. When you begin your speaking test with a story, you will have the recruiters' attention.
For instance: You can present a story about the great person who established Emirates Airline, which is credited with developing Emirates Airlines as the largest airline in the world. Unfortunately, he just passed away. Although his death is the biggest loss for Emirates, it should be the motivation for everyone who wants to be a part of or be a historic part of this airline. That's the way we call that: The structure of the impromptu speech of A Cabin Crew Interview of Emirates Airlines
"Sir Maurice Flanagan took an airline with one leased aircraft and then let it fly to become a part of the UAE's world travel revolution.
LONDON // When Emirates Airline has launched three decades ago with a leased aircraft, Maurice Flanagan could hardly have imagined the company would become one of the world's largest and most popular carriers.
Sir Maurice Flanagan, as he became, was perhaps the key expatriate involved in growing the Dubai airline into a global behemoth with more than 230 aircraft, including the world's largest fleet of Airbus A380 superjumbos.
His recent death in London aged 86 came two years after he stepped down as Emirates' executive vice-chairman. He was a lively and forthright advocate for the company who retained a high media profile into his 80s.
The Dubai that Flanagan moved to in 1978 to run data, on a two-year secondment that became permanent, was a very different place to the present-day city.
But the emirate had huge ambitions, and Flanagan played a central role in creating an airline that, as the city grew, turned Dubai into one of the world's aviation hubs.
Gulf Air had flown to Dubai since the 1970s but its decision the following decade to cut services provided a spur for Dubai to set up its own airline. Flanagan headed the small team charged with launching Emirates with US$10 million and a requirement to be profitable.
Operations began when the company's leased airliner took off from Karachi in 1985, and within a year more than a quarter of a million passengers had traveled.
Over the coming decades, with the down-to-earth Flanagan as managing director of the airline and then of Emirates Group, growth was spectacular. Emirates is now among the world's top 10 airlines by revenue, one of the largest five in terms of passenger-kilometers flown, and the top three in terms of freight
kilometers.
The company announced it had made Dh4.6 billion in the year to the end of March, its 27th consecutive annual profit.
Flanagan occasionally imposed his whims on the company, reportedly redeploying staff with the term "marketing" in the title as he disliked the term, and order that – to show solidarity with operational staff – executives keep flying to Kuwait even as the security situation deteriorated ahead of the first Gulf war.
He spearheaded the company's huge investments in sports sponsorship, although instead of linking up with the Manchester United he supported, Emirates first teamed up with Chelsea before settling on Arsenal.
Flanagan was robust in refuting the idea that Emirates enjoyed unfair government assistance, saying in an interview such suggestions were "rubbish".
"We are just a better-run airline," he said.
Born in Lancashire, in north-west England, in 1928, he attended Liverpool University and began his aviation career as a Royal Air Force navigator. Two years later, in 1953, after a knee injury had put paid to his hopes of becoming a professional footballer, he joined the British Overseas Airways Corporation, a state-owned airline, and held a number of overseas posts in what was a very different era for aviation.
He took up a senior position as a route planner in London in 1965 and continued with the carrier when a 1974 merger led to the birth of British Airways.
Leo Fewtrell, a UAE-based travel industry executive who knew Flanagan from their BOAC days, said: "He was largely responsible for helping make Emirates the world-beating company it is today. A terrific businessman but, more importantly, a good family man and respected by all."
Flanagan is survived by his wife, Audrey, his daughters, Siobhan and Claire, and his son, Julian.
Maurice Flanagan: born Leigh, Lancashire, 17 October 1928; died London, 7 May 2015.
Your speaking test is from 1-3 minutes long, its parts are so shorter than a speech that you prepared before. The intro and the body part of the speaking test are sometimes only 1 min long. Because you think of it at speaking time and can change the orientation of the speech while speaking. Sometimes the intro cannot be connected with the other parts a lot through the speech. However, the conclusion part has to be always suitable, strong, and clear.
The body part of the speech
In the body part of your speaking test, you should share only one argument. Because your speaking test is really short, so you can only express the most significant view of point.
This is a common mistake of many candidates. They are so greedy in speaking, they give a lot of arguments and don't have enough time to present the last point. Finally, there isn't any point presented clearly.
If you try to express more than 2 arguments, then giving a charismatic answer is impossible. You can present the other messages when answering the recruiter's other questions. The more concentrated the answer is given, the stronger it is. Your speaking absolutely gets the higher efficiency.
The candidates use many different strategies in order to answer a question, but there are three parts that are proven to be the most effective. These parts are always used, even when you only use this basic structure to answer all questions, it helps you have a good impromptu.
The conclusion of the speech
This is the most important part of the test because the last sentences are memorized the most by the recruiters. Finish your speaking test with a statement and the recruiters will remember your arguments. You can finish the test with a call to action, for instance, " Please trust in my abilities. I will be selected and be proud of the flight team. Those are two common ways to finish your speech and all of them are proven that get the most effective in many Cabin Crew Interviews
This part needs to be summarized the real messages of your speaking test and re-declare your view of point. The purpose of the impromptu is not the skill of filling up time by speaking, but it is the value of your speech expressed to the listeners and sharing your unique points. Don't hide behind meaningless abstract speech. The speech needs a clear argument to be presented to get high efficiency.
It is clearer that your argument has to be expressed in shorter than 15 words and has a message that you want the recruiters to memorize if they forget all things that you spoke about before.  You recognize that your real message is not clear if it is more than 15 words long. If you don't know your message clearly, then the recruiters are too.
One more thing, you should choose intelligently to connect the intro part with the conclusion part. If you can do it. Your speech becomes more sure and consistent.