STAR – The technique of answering Cabin Crew Interview Questions commonly
Interviewing the candidates to select the Cabin Crew Is really interesting. This is a special job when the recruiters really like giving the challenges for the candidates to find out the candidates who have suitable factors. Behind the luxury uniform, you have to own the real qualities in the service industry. Each airline has its own way to interview candidates. I am especially impressed with Emirates Airlines and Arab airlines such as Etihad Airways, and Qatar Airline because they usually apply professional interview techniques in order to not miss the talented person. These techniques can check the personalities of the candidates really rapidly and oblige you to improvise quickly, furthermore, your personalities and qualities are revealed through the rounds of the interview. STAR – The technique of answering Cabin Crew Interview Questions of Emirates Airlines commonly
Therefore, if you understand this format clearly and prepare for it before with the rule that you want to improve yourself to serve job demands. Then you are having more chances to be selected for a 5-star airline. Don't try to be perfect in these tests because the recruiters can realize easily what it is.
I will help you improve your skills.
STAR – tell a story in the interview progress.
Most recruiters use the interview technique based on their specialism. They ask some questions that they can understand you. STAR means:
S –  Situation
Describe the detailed events and your experience of the job that you used to work.
Service Industry, or more special Cabin Crew job, is both difficult and easy. It is difficult because of the skills you need to be professional. It is easy cause you can get these skills when you have worked many different jobs. On the other way, you can completely change your career from your current job to being a Cabin Crew.
The key is you need to know which skills and qualities that the airline wants and they will exploit you from past situations. Emirates Airline, Their criteria is:
A positive attitude and empathy for others
Strong cultural awareness and the ability to adapt to new environments and people
Flexibility and the motivation to manage a demanding work schedule
Qualities necessary to live up to the mission and values that Emirates holds in high regard – Professional, Empathetic, Progressive, Visionary, Cosmopolitan
Now you need to tell a story about a past situation in which you used to work in, these qualities are used effectively.
Example: I used to work in the orphan support center of UNICEF. I felt the children there need the sympathy of adults, responsible individuals in order to help them overcome their complexity and their difficulties in assimilating with the public. I and my partners need to impart to them a positive attitude of living so that they understand that their life is so meaningful: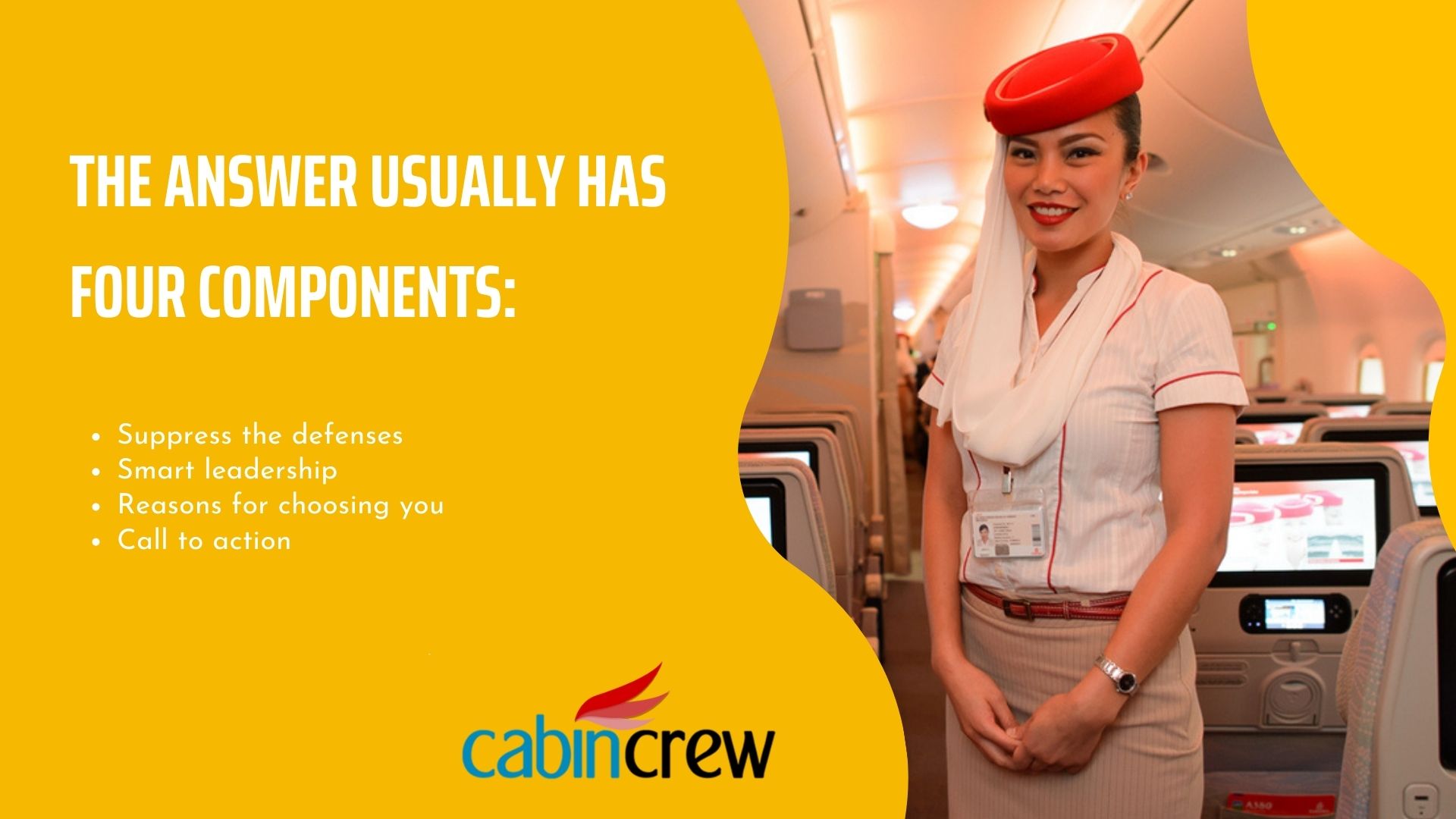 T – Task
The goal and result that you want to get for the project that you used to work on.
The goal and result prove that you are a person with a vision. A visionary is a person evaluated through his passion because:
When you have a demand that provides positive energy for others. It means you have strong motivation.
When you have strong motivation, you will enthuse doughtily and has a far-sighted vision.
When you have passion and do it successfully, you will satisfy with conquering it.
So, if you are a person who has a passion or a vision, the recruiters realize that you are a unique and rare person in society. Perhaps, you haven't got it yet but at least you are trying to get to that level.
On the contrary, if you expressed badly through a bad goal and result, the interviewers only arrange you are a person of a group that likes to show off, boast, smarm .. or the worst thing is they think you are a person merely know the basic demands such as workplace facilities, welfare…
A – Action
This was the progress, these steps that you did in that project. Tell about the difficulties you met and what your solutions were
If you don't want to be a foolhardy person, the steps of your actions have to be clear and have a detailed target. The target is a key to your success in work. It is really wonderful if you were responsible for giving suitable targets.
R – Result
Giving the result of that project, the experience that you could get.
The result will show off everything. If it was not a good result as you hoped, please remember this sentence: "if you were not successful, you would also get a lot of experience". You got the result under many different levels. Sometimes, it would be more useful than your result in the interview.
When the interviewers ask you, you should give detailed answers, such as: "My responsibility is… My actions are…. Or the result is…."
Why do recruiters usually use this interview technique?
The goal is: To discover the behavior of candidates in the past and Forecasting future behavior.
A technique of making a story in the roleplaying game 
First, this technique is used by Emirates Airlines and Etihad Airways in the interview format to evaluate the candidates. Moreover, the biggest companies in the world are Google, Microsoft, and Facebook… use also it. Therefore, if you give the answers smoothly in all situations from your job to the interview, you will be a talented person. Find out more about Roleplaying Technique. STAR – The technique of answering Cabin Crew Interview Questions of Emirates Airlines commonly will help you.